Platinum Collection
Enzyme Polish
Elegant combination of physical and enzyme exfoliators along with alpha and beta hydroxy acids. Perfect for mature skin.
Key Ingredients:
Aloe
Sage Extract
Cucumber Extract
Salicylic Acid
Malic Acid
Lactic Acid
Tea Tree Oil
Papaya and Pineapple Fruit Extracts
Regenerating Serum w EGF
This powerhouse serum reduces the appearance of fine lines and wrinkles.  Regular use will revitalize, refine and reduce clogged pores and dead skin.
Key Ingredients:
rh-Oligopeptide-1 (EGF)
Caprooyl Tetrapeptide-3
Cocos Nucifera (Coconut) Fruit Juice
Revive Mask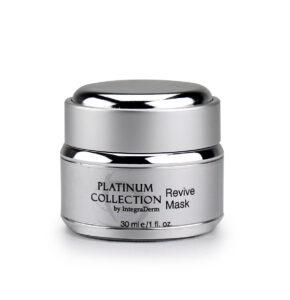 Exfoliating rejuvenating mask with retinol, lactic acid and antioxidants, leaves skin smooth, firm, soft and glowing. Perfect for anti-aging and oily/teen skin.
Key Ingredients:
Lactic Acid
Resveratrol
Bisabolol
Cranberry Extract
Bromelain
Retinol
Papain (Papaya)
Coenzyme Q10 (Ubiquinone)
Camellia Sinensis (Green Tea) Leaf Extract
Skin Tight Serum
This serum improves the appearance of fine lines and wrinkles with both instant and longer-term ingredient properties.
Key Ingredients:
Acetyl Tetrapeptide-17
Platinum Matrix-EM (Colloidal Platinum)
Palmitoyl Hexapeptide-19
Cichorium Intybus (Chicory) Root Oligosaccharides
Caesalpinia Spinosa Gum
Palmitoyl Oligopeptide
Palmitoyl Tetrapeptide-7
Aloe Barbadensis Leaf Juice
Timeless Moisture
Premium, rich moisturizer with global anti-aging properties.
Key Ingredients:
Teprenone
Squalene
Plum Seed Oil
Raspberry Seed Oil
Ultra Peptide Eye Cream
Deeply rich peptide-combination eye cream. Botanical actives have been shown to reduce the appearance of dark circles and puffiness around the eyes.
Key Ingredients:
Palmitoyl Tripeptide-5
Palmitoyl Oligopeptide
Palmitoyl-Tetrapeptide-7
Soy Peptides
Hydrolyzed Rice Bran Extract
Avocado Oil
Aloe
Coconut Oil
Grapeseed Oil
Jojoba
Tocopherol (Vitamin E)